PV Elite is a reliable and dynamic pressure vessel design and analysis tool that streamlines the process, ensuring safety, compliance, and efficiency. A cutting-edge software developed by Hexagon PPM, PV Elite stands out as a comprehensive solution for pressure vessel and heat exchanger design and analysis. In this article, we will explore the uses, key features, and benefits of PV Elite, shedding light on how this software empowers engineers in the field of pressure vessel design. At the end, a free online training course is provided for beginners to learn the software at their own pace.
What is PV Elite?
PV Elite offers a comprehensive package for the design, analysis, and assessment of vessels and heat exchangers. Known for its user-friendly interface, the program is ideal for users seeking a quick and confident initiation into safety code calculations. Covering the entire vessel, PV Elite addresses wall thickness rules and stress analysis requirements for vertical towers, horizontal vessels, and heat exchangers. Additionally, it provides the capability to evaluate and re-rate existing vessels, incorporating Fitness for Service analysis.
Applications of PV Elite Software Program
PV Elite software finds application across various industries and engineering disciplines, primarily focusing on the design, analysis, and evaluation of pressure vessels and heat exchangers. In all industries where the applications of pressure vessels are found, the PV elite software program is a good tool during their design phase. Some of the key sectors where applications of PV Elite are frequently found are:
Chemical Process Industry
Oil and Gas Sector
Power Generation
Petrochemical Industry
Water Treatment and Desalination
Pharmaceutical and Food Processing
Aerospace and Defense
Renewable Energy
HVAC (Heating, Ventilation, and Air Conditioning)
Beverage
Brewing
Shipbuilding, and others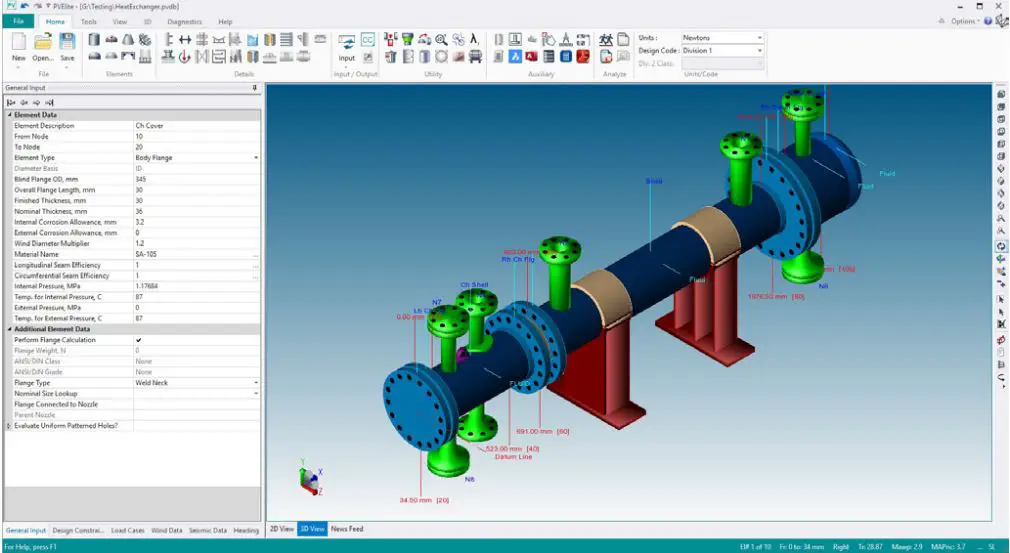 Functionalities of PV Elite Pressure Vessel Design Software
PV Elite's versatility and capability to comply with international codes make it a valuable tool in diverse engineering scenarios where pressure vessels and heat exchangers play a critical role in the overall functionality and safety of industrial processes. Its functionalities encompass:
Design and Analysis for Vessels
Design and Analysis for Heat Exchangers
Tubesheet Design and Analysis
Analysis of Rectangular and Non-Circular Vessels
Detailed Analysis of Individual Components
Robust Error-Checking Capabilities
Design for Saddle, Leg, Lug, Trunnion, and Skirt Components
Analysis Facilitating Horizontal Shipping of Vertical Vessels
Customizable User-Definable Reports
Wind Analysis According to International Standards
Seismic Analysis in Accordance with International Guidelines
Compliance with International Vessel Codes
Seamless Integration with CADWorx® Plant Professional and CAESAR II®
Transportation Analysis Features
3D PDF Generation Capability
Generation of Retirement Limits and Maximum Allowable Corrosion Allowance
Key Features of the PV Elite Software Program
Intuitive User Interface:
PV Elite boasts an intuitive user interface that facilitates easy navigation and operation. Engineers can quickly become familiar with the software, reducing the learning curve and enabling faster project turnaround times. The clean design of the interface enhances productivity by allowing users to focus on the task at hand without unnecessary complexity.
Extensive Code Compliance:
Adhering to industry standards is paramount in pressure vessel design. PV Elite incorporates a wide range of international design codes and standards, including ASME, PD 5500, TEMA, and EN 13445. This ensures that designs created with PV Elite not only meet but often exceed regulatory requirements, providing a solid foundation for safe and reliable operation.
The latest PV Elite software supports the following codes and standards:
ASME Section VIII Divisions 1 & 2
API 579 FFS
WRC 107, 297, 537, 538
EN 13445
PD 5500
EN 1591 Advanced Flange Design Standard
STS-1 ASME Steel Stack Standard
PCC-1 Appendix O Bolted Flange Joint Assembly
Powerful Analysis Capabilities:
PV Elite goes beyond basic design by offering advanced analysis capabilities. The software performs calculations for various loadings, including pressure, wind, seismic, and thermal. Engineers can simulate real-world scenarios to assess the structural integrity and performance of pressure vessels under different conditions. This comprehensive analysis contributes to the optimization of designs, resulting in cost-effective and reliable solutions.
Efficient Modeling and Design Tools:
PV Elite simplifies the modeling process with a range of efficient tools. The software allows engineers to create 3D models of pressure vessels and heat exchangers quickly. Automated features, such as nozzle and flange design, streamline the design process, reducing the likelihood of errors and ensuring consistency in design across projects.
Seamless Integration with Other Software:
Interoperability is a key consideration in engineering workflows. PV Elite seamlessly integrates with other engineering software, including CAD platforms like AutoCAD and BricsCAD. This interoperability facilitates a smooth transfer of data between different stages of the design process, eliminating the need for manual data entry and minimizing the risk of errors.
Comprehensive Reporting:
PV Elite provides detailed and customizable reports that document every aspect of the design and analysis process. These reports not only serve as a record of compliance with industry standards but also aid in communication between engineering teams, clients, and regulatory authorities. The ability to generate comprehensive reports enhances transparency and accountability throughout the project lifecycle.
Ongoing Support and Updates:
Hexagon PPM is committed to providing ongoing support and updates for PV Elite. Regular updates ensure that the software remains current with the latest industry standards and incorporates user feedback for continuous improvement. This commitment to support contributes to the long-term reliability and relevance of PV Elite in the ever-evolving field of pressure vessel design.
What is the latest edition of PV Elite?
The latest edition of the PV Elite software program is PV Elite 26. Watch the following free webinar to understand the extended capabilities of the latest edition of PV Elite 26 software: What's New in PV Elite 26- Enhanced Workflows, Codes, and Connections for Optimizing Operations
Free Online Training Course on PV Elite
If you are looking for a free course on PV Elite software then the following course is just for you. The course covers the following modules:
Module 1: Starting PV Elite and Changing the Units and Codes
Module 2: The Order of assembling a vessel
Module 3: Building your first vessel
Module 4: Flipping the vessel from vertical to horizontal
Module 5: Inserting a Component
Module 6: Installing a nozzle in the vessel
Module 7: Hillside and Lateral Nozzles
Module 8: Selecting the Material
Module 9: Summary of whatever you learned
Module 10: Putting it all together
Click here to enroll and join the course. If you can not access using the link; simply register and then search with PV Elite and you will get the course. Start from the Introduction module.